TissusLionel.com exchange !
Since 1982 Fabrics Lionel dominates the market for the sale of fabrics show with its famous range of Lycra.
There are now 1 year we offered you the opportunity to order online, a real turning to digital and principally the e-commerce.
In 2017 a renewal of air available to you through the complete overhaul of our website TissusLionel.com.
More secure with designer fabrics redesigned Lionel offers multiple functionality to discover without delay.
---
The home page
Keeping one step ahead by finding a look at our homepage promotions and news. This is an opportunity to discover that Lionel Fabrics is not the leader of the show Tissue.
---
Sign in 1 click !
You have a Facebook or Google account login & sign up 1 click TissusLionel.com
---
security
Our new website uses SSL (Secure Socket Layer) / TLS (Transport Layer Security)which is the most common security protocol that creates a secure channel between two machines Communicating on the Internet or internal network. In our society centered on a vulnerable Internet, SSL is generally used when a browser must connect securely to a web server.
In an Earth language that allows you to register and place your order at all serenity your personal data is protected and encrypted.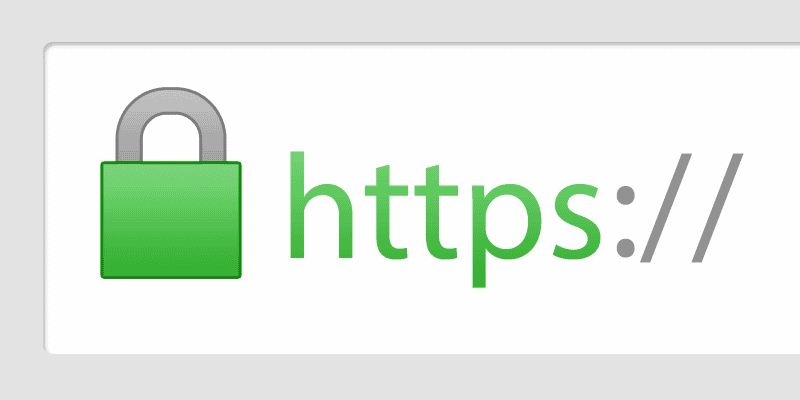 ---
Smartphone & Tablet
In order to keep a modern site in perfect evolution with time the design was rehabilitated for Tablets & Smartphone.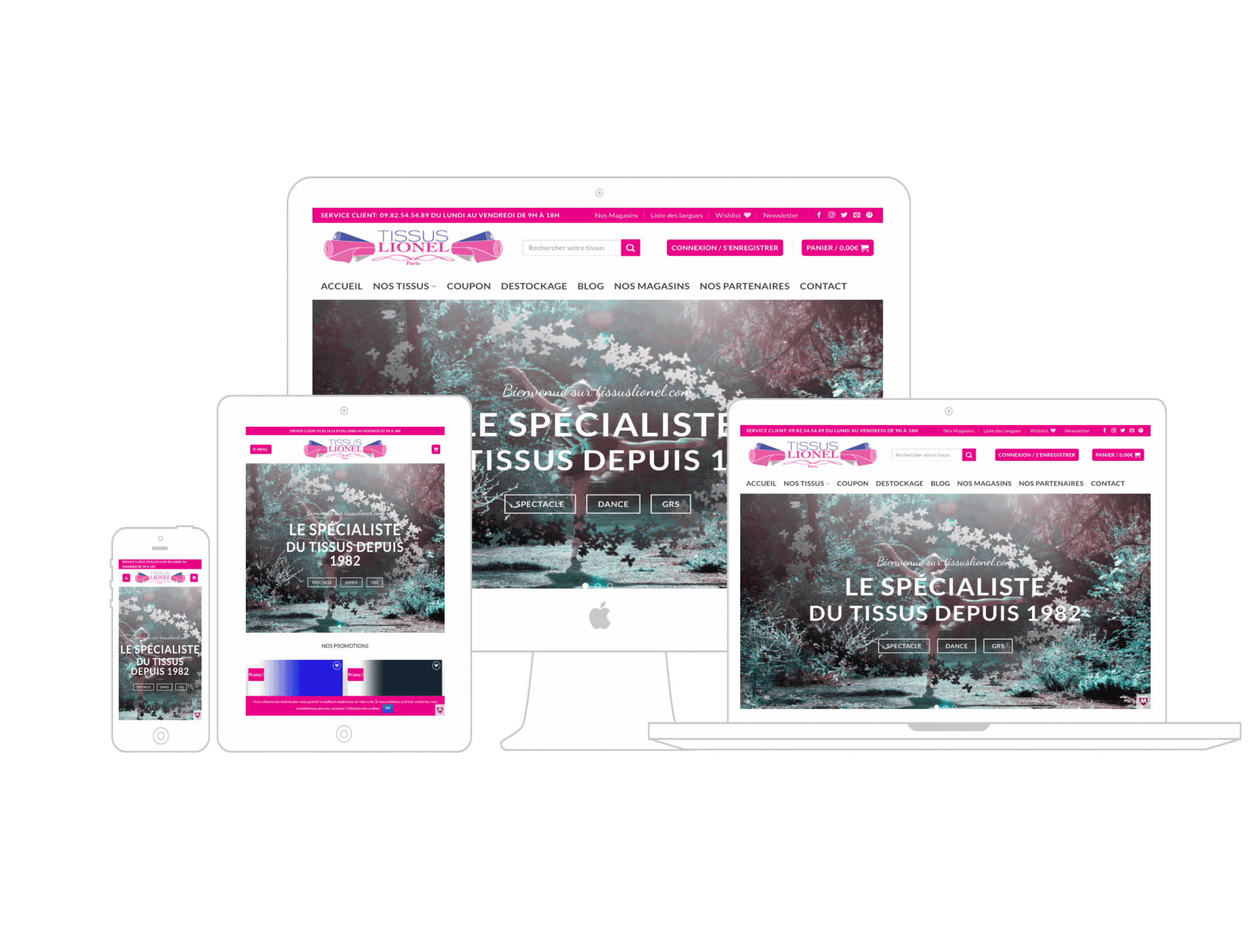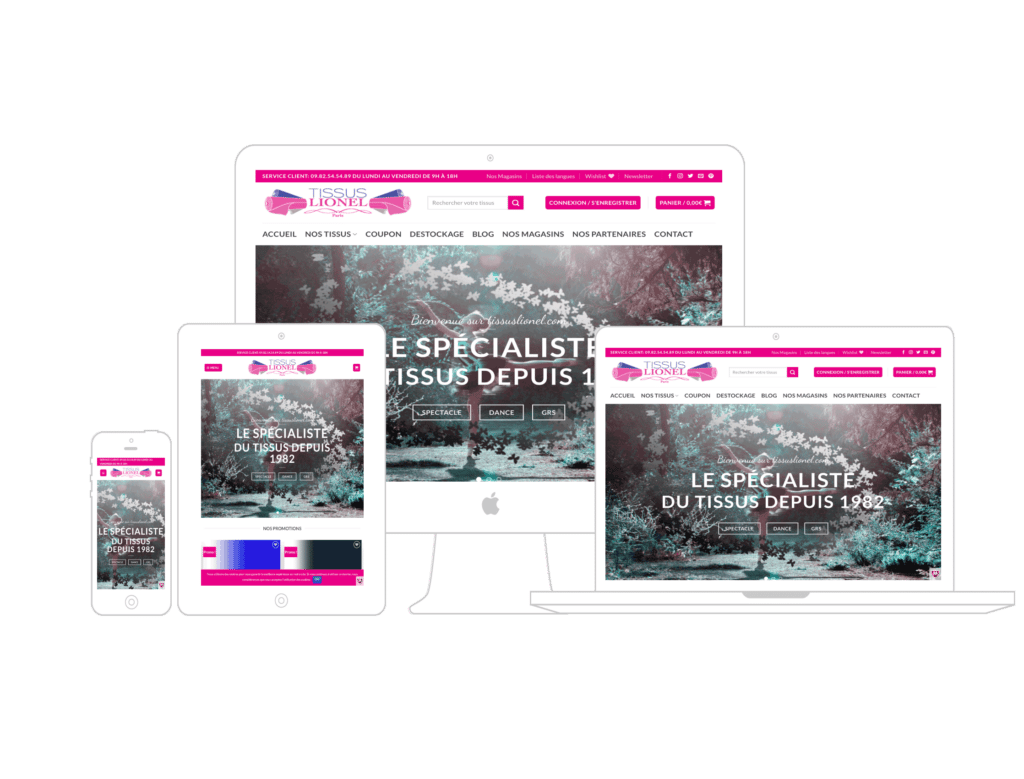 ---
Our fabrics like you've never seen
Discover the x2 zoom functionality that allows you to enlarge the picture of our fabrics in order to observe its quality in every detail
---
Track your order
With your order number (C1706090000) and email address you can track your order from the following link : Track Your Order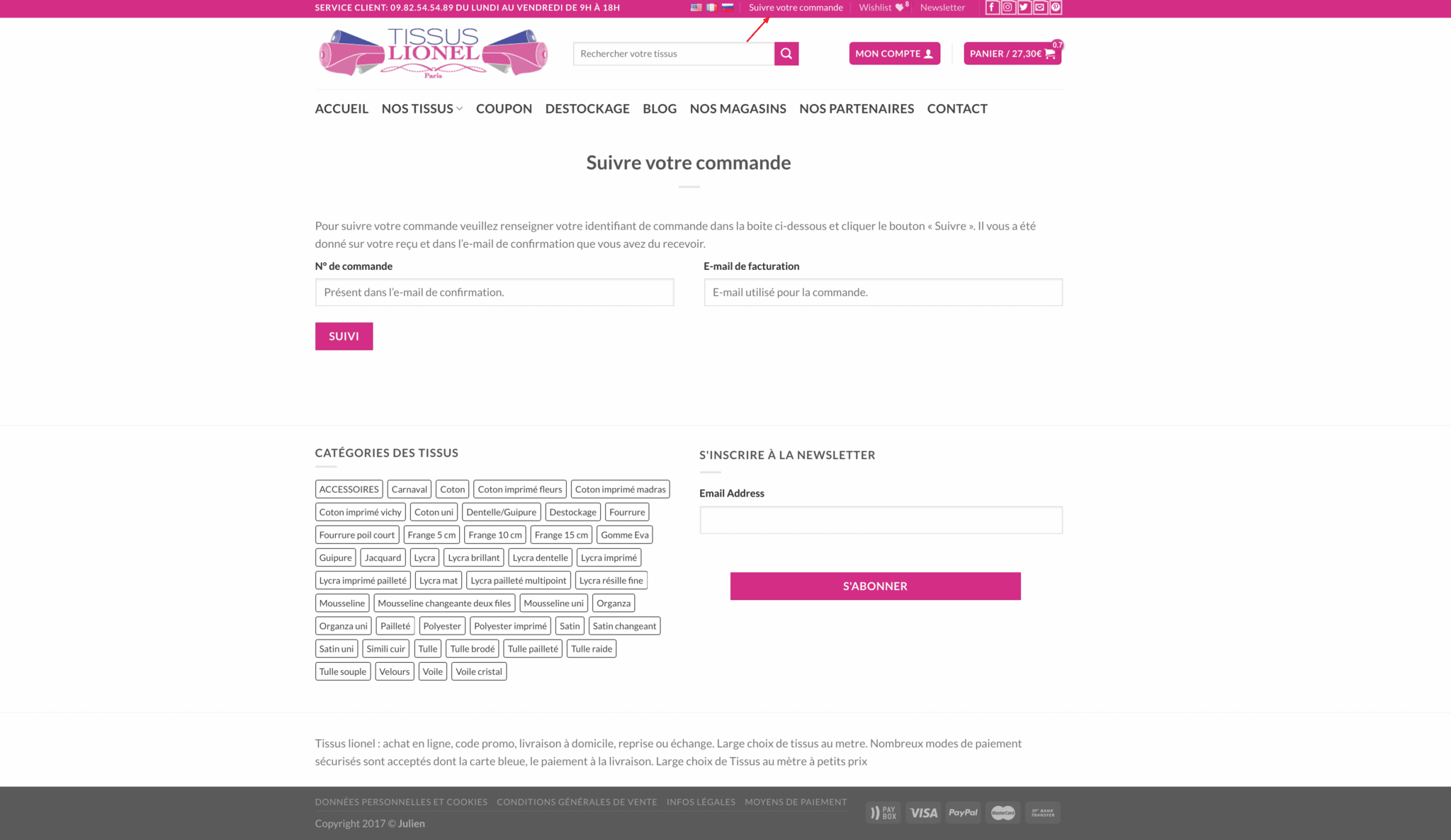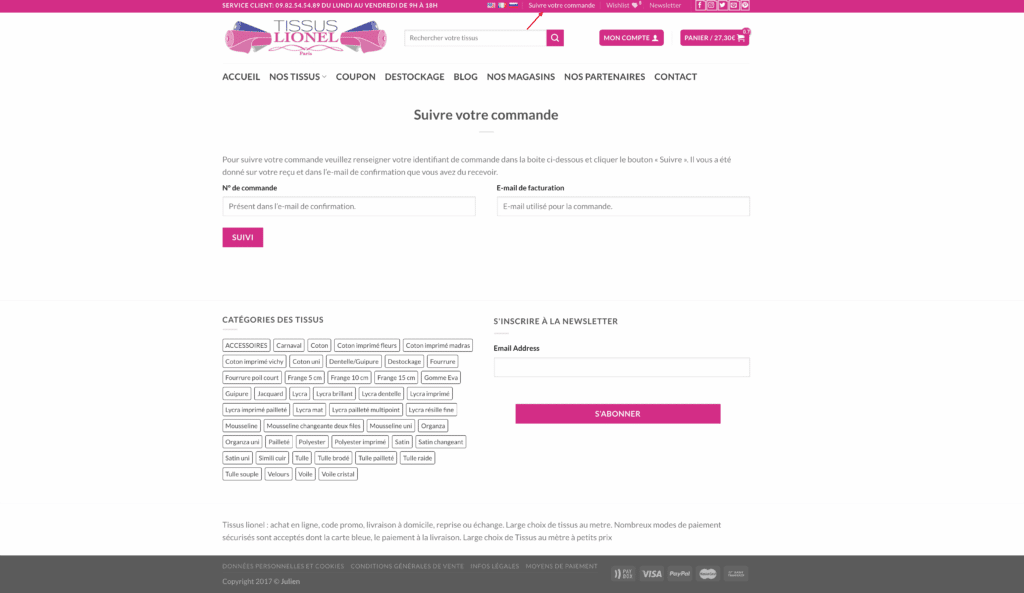 ---
Added Whishlist Kesako ?
Wishlist feature allows you to add your favorite fabrics in a list which remains available at all times at the top of your account, just one click to add 1 meter of fabric your favorites to your Shopping Cart.
---
a newsletter
Staying connected to Lionel fabrics or you are and receive exclusive offers by subscribing to our Newsletter with a simple click you will receive a weekly newsletter in email box.
---
Clearance
Discover more 50 not monitoring tissue references - 50 %.
---
Link to your favorite social networks
You have an idea of ​​creation ? or you simply want to seek advice(e) friends ? simply share by clicking the link at the bottom of the page for each sheet.
---
Free delivery !
We said, we did on TissusLionel.com delivery is free from 200 € purchasing whatever the weight of your package only in France. This is an opportunity to think about the grouped control, place your order with a friend(e) and take advantage of free shipping.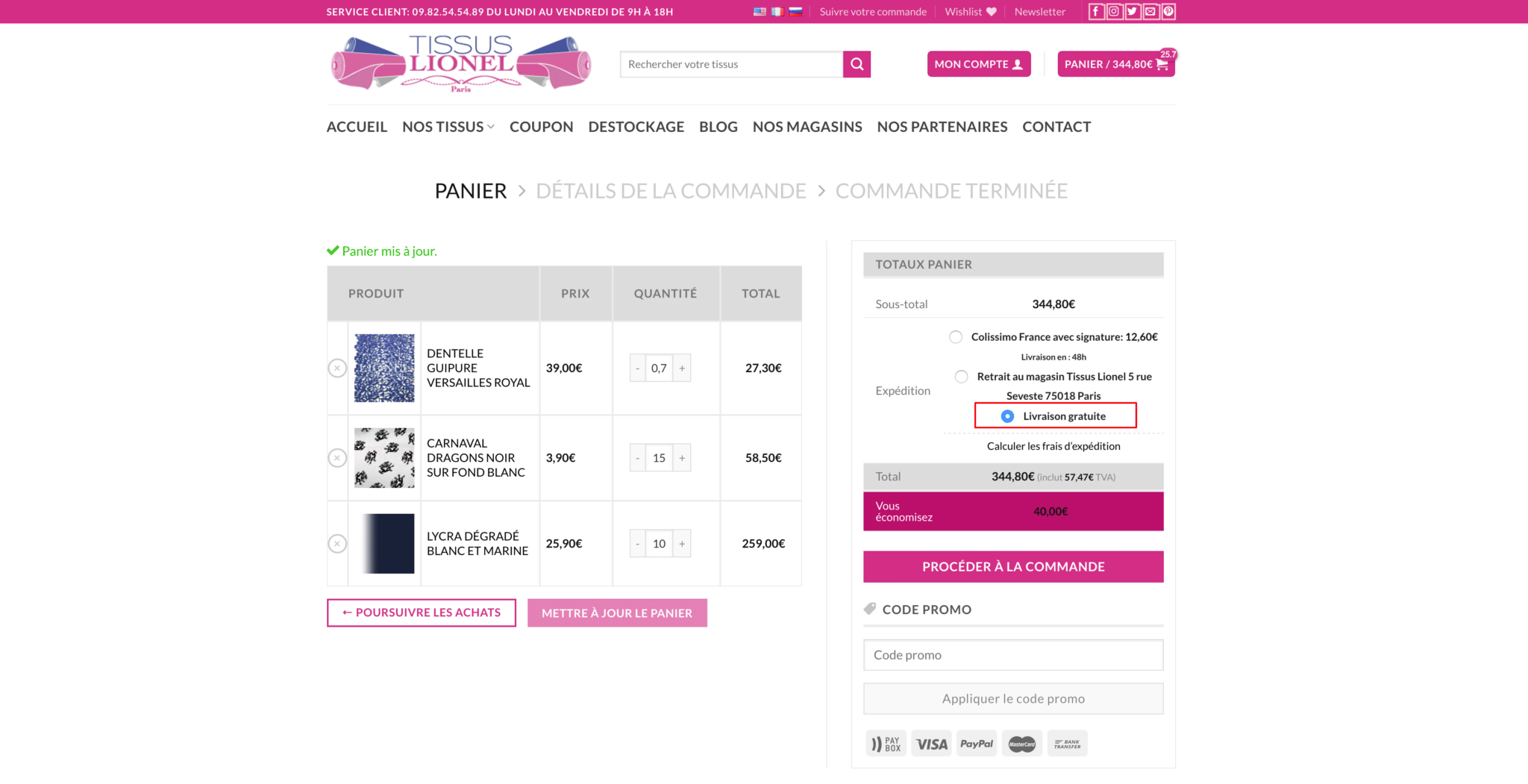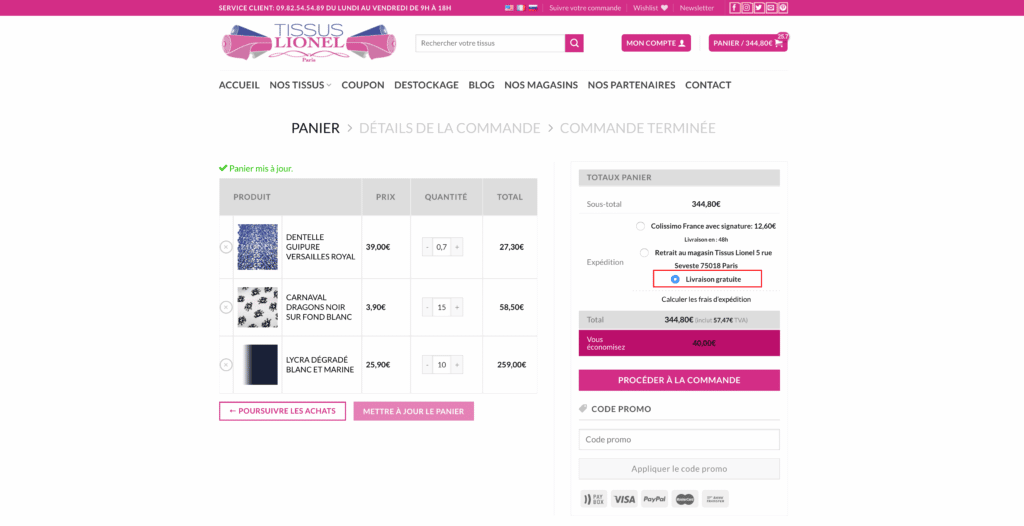 ---
Request Sample
Internet does not offer us the possibility to touch the fabrics and offer a rather different visual appearance depending on your equipment (Screen,Smartphone,Tablet).
Fabrics Lionel understood very well that is why you have the possibility to realize a sample request in the CONTACT section of our website plus they are TOTALLY FREE.
To ensure quick processing of your request samples are limited to 6 / customers.
---
TissusLionel.com flew to the International
With his experience in international Lionel Fabrics offers a multilingual website available including English and in Russian in beta testing (That is why you find some translation errors).
---
Professional you are looking for an exceptional partner ?
Discover more 2000 references in stock and get special discount for orders over 25 meters. We are developing a new platform that will be entirely dedicated to you. Ask open your account right now-from the contact section of our website.
---
You like to share your passion ?
Blogger or YouTube adopters this message is for you.
You want to work with Lionel fabrics please send your website or link to your YouTube channel. We will contact you to make use of fabrics ambassadors Lionel.
---
Breakfast with Lionel ?
Fabrics Lionel is not a brand or a website is also a passionate team that offers this service for 1982. This is why we can accomodate you in the heart of Montmartre in our shop 5 Rue Seveste 75018 Paris. The first Monday of the month to share breakfast and your passion and enjoy great offer around a hot coffee and a pastry register online.